For seniors with dementia, the importance of sleep cannot be overstated. Not only does sleep help to restore mental energy but it also plays an essential role in maintaining cognitive function and overall well-being.
Unfortunately, many seniors with dementia experience common sleep disturbances such as insomnia, sleep apnea, and sundowning, making it difficult for them to get a good night's rest. In this blog post, we're going to explore why people with dementia sleep so much, how sleep affects their cognitive function, the effects of sleep deprivation on seniors with dementia, and how dementia care in Texas can help those who are struggling to find quality rest.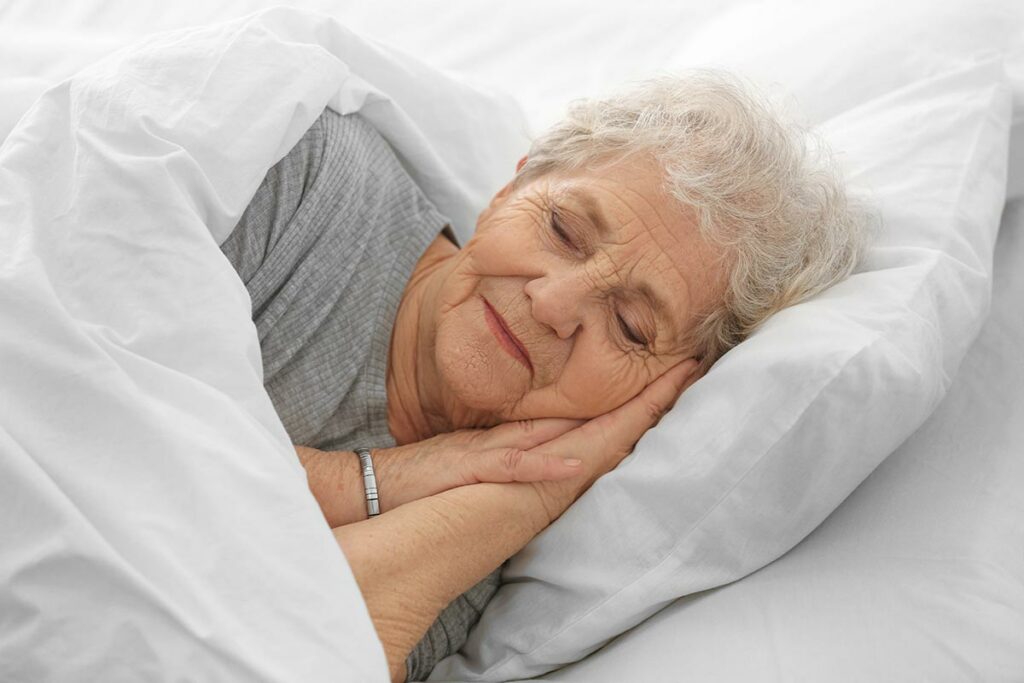 What is the relationship between sleep and cognitive function?
Sleep plays a crucial role in cognitive function because when we fall asleep our brains are able to store and process information from the day more efficiently than when we are awake. Studies have found that disturbed or restricted nighttime sleep can lead to memory problems and difficulty concentrating, which can further complicate life for those living with dementia. Whereas adequate nighttime rest can help to improve concentration levels during the day as well as reduce agitation and confusion among seniors living with dementia — all key components for successful aging-in-place at home or living in a memory care community.
Why do people with dementia sleep so much?
Many seniors with dementia tend to experience excessive daytime drowsiness or "napping" during the day due to poor nighttime sleep patterns. This is because most forms of dementia can cause disruptions in circadian rhythms which control our natural wake/sleep cycles. As a result, these individuals may find themselves feeling more alert in the evening and sleeping more during the day than they would have pre-dementia. Additionally, some medications used to treat behavior issues associated with Alzheimer's and other forms of dementia can contribute to excessive daytime sleeping as well.
Characteristics of Sleep and Common Disturbances in Seniors with Dementia
As previously stated, seniors with dementia often have difficulty sleeping through the night and therefore can sleep more frequently during the day. This can be due to changes in the brain that occur with dementia, as well as anxiety or other psychological factors. Many seniors also experience changes in their sleep patterns as the disease progresses.
But what exactly are these sleep disturbances? Insomnia, or the struggle to fall asleep or stay asleep through the night, is a common sleep disturbance in seniors with dementia. Other common disturbances include sleep apnea and sundowning. Sleep apnea is when someone's breathing can stop briefly numerous times through the night, and sundowning is when someone grows agitated or confused starting at dusk and into the night.
Can seniors find solace in dementia care? Texas memory care community SoCo Village can provide the support your loved one needs.
SoCo Village, a senior living community in Austin, Texas, offers security and consistency for memory care residents. They'll receive the attention and supervision they need, while participating in signature programming designed to help slow the progression of Alzheimer's and other dementia. Families can find comfort in knowing we have care associates on-site 24/7 and provide all-inclusive daily care, including bathing, grooming, mobility assistance, and more. Plus, with individualized care plans, our associates continuously monitor your loved one's health and behavior and can remain informed of and proactive around disturbances in their sleep patterns.
Sleep is an important part of life for everyone, but it is particularly important for seniors with dementia. Being aware of why people with dementia need more rest can help you understand how best to support your loved one's needs. If you're ready to explore memory care, SoCo Village is here to work with you every step of the way. Contact our community to schedule a tour or learn more about our memory care program.