Senior living is so much more than bingo and happy hour! These communities have come a long way in recent years, transforming the perception of aging by offering vibrant and engaging environments for older adults.
SoCo Village is a shining example of this shift to hip senior living, offering a warm and welcoming home and plenty of options for having fun! With a wide range of activities and a focus on building social connections, this exceptional community ensures seniors enjoy their golden years to the fullest. In this blog post, we will dive into the world of SoCo Village and explore some of the exciting activities that keep its residents energized, entertained, and loving life.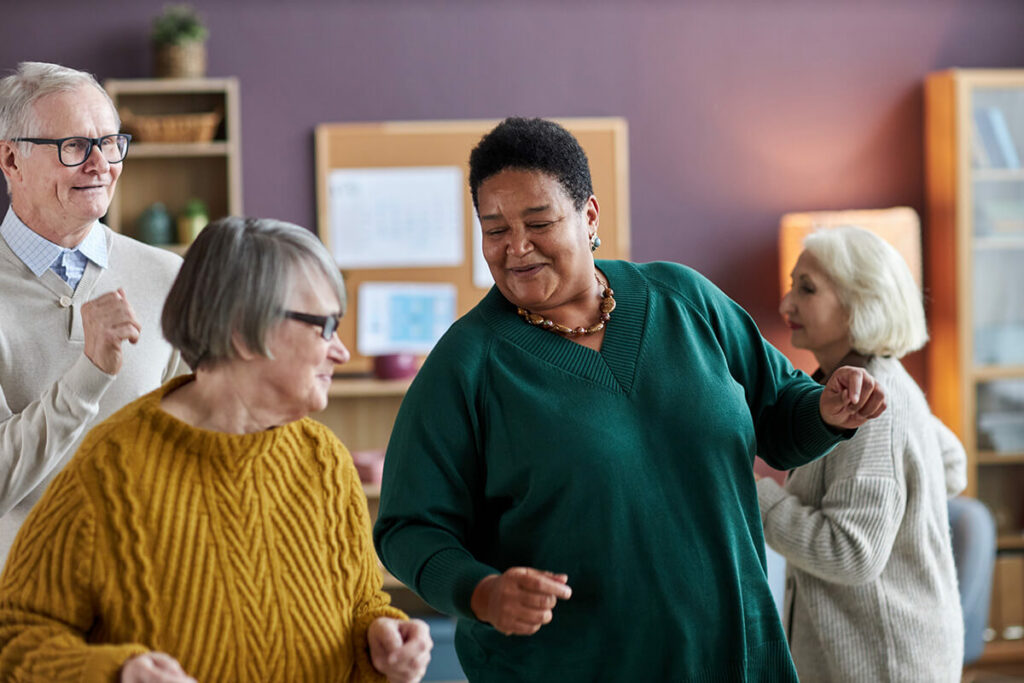 Let's Get Moving
At SoCo Village, staying active is not only easy but fun! From gentle exercise classes like chair bowling and games to walking clubs, there's something for everyone. Residents can take part in chair yoga, group walks through the picturesque gardens, and lively dance classes. These activities promote seniors' need to move and get social by building connections with fellow residents.
Four-legged friends
Pet therapy for seniors has long been known to have many benefits. Spending time with our furry friends is good for the body and mind. Senior pet therapy helps by:
Fighting loneliness, anxiety, depression, and PTSD
Decreasing blood pressure and cholesterol levels, thereby reducing the risk of heart disease
Providing more opportunities to stay active
At SoCo Village, the newest edition is Bruno SoCo, the community dog. He was gifted to the community by Casey Weredyk, the owner of CNF Farms. Bruno has been a delightful addition to the family, spreading smiles wherever he goes. "He has been a little love for everyone and the best medicine for our residents," shared Executive Director Melissa Nix. "We are so in love with this little baby and are grateful for the gift by CNR Farms!" Residents, families, and staff can be found cuddling and playing with Bruno every day.
Getting creative
SoCo Village understands the importance of creative expression for seniors' emotional well-being. That's why the community provides numerous outlets for residents to explore their artistic sides like painting.
For seniors, it's important to be exposed to the arts. SoCo Village hosts concerts, painting classes, pottery workshops, and even a resident-led photography club. Whether they are experienced artists or just trying something new, residents can unleash their imaginations, and share their talents freely.
Cultural enrichment
SoCo Village recognizes the value of lifelong learning and cultural enrichment. That's why the community organizes trips to the library, lectures, book clubs, and discussion groups on a variety of topics. Life-long learning is key to staying mentally engaged and happy. SoCo Village has ample opportunities to engage in intellectual pursuits. Additionally, local artists and musicians frequently visit the community, providing live performances and workshops that keep things interesting.
Gardening and nature
The beautifully landscaped grounds of SoCo Village provide the perfect backdrop for residents who enjoy spending time outdoors. Plant enthusiasts can join the community's Green Thumb Club where they tend to flower beds, grow vegetables, and nurture plants. This hands-on activity allows seniors to connect with nature, engage in physical activity, and enjoy the therapeutic benefits of spending time in a garden.
Celebrating life's special moments
At SoCo Village, every occasion is an opportunity to come together and celebrate. The community organizes festive events, holiday parties, and group outings, creating a sense of joy and camaraderie among residents and staff alike. From lively costume parties to elegant formal gatherings, these special moments add a touch of excitement and make life at SoCo Village truly memorable.
SoCo Village is proof that senior living communities have evolved into vibrant and engaging environments where older adults can thrive and have fun. Through a plethora of activities and a focus on fostering social connections, SoCo Village creates a sense of belonging and purpose for its residents.
From staying active and fit to exploring creative pursuits, cultural enrichment, and connecting with nature, the community offers a diverse range of experiences tailored to individual interests and preferences.
Let us make your next chapter fun!
SoCo Village exemplifies how senior living can be a fulfilling and joyful chapter in one's life. Let us show you how great senior living can be. Contact us today to schedule a visit.