The Alzheimer's Association reports over one million Texans provide Alzheimer's care to a loved one. Despite being a common issue, it can often feel isolating.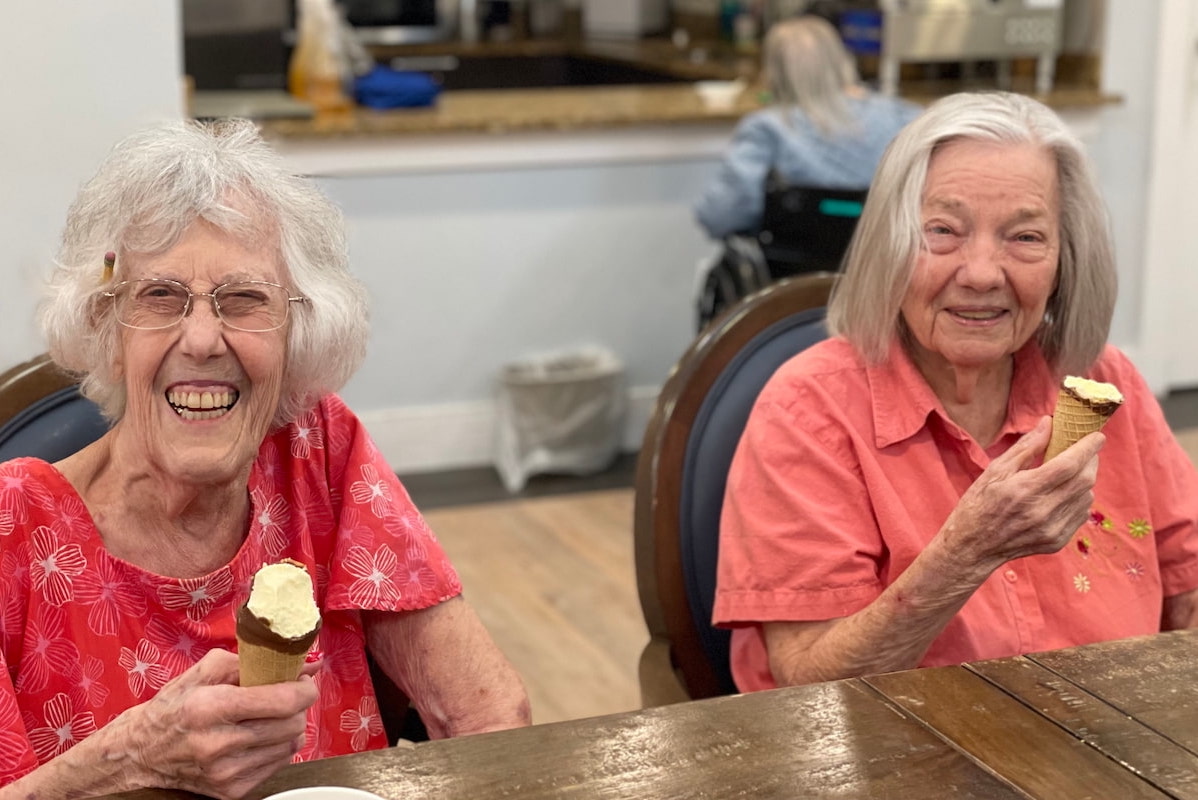 We form close bonds at SoCo Village. We ensure family members don't have to go on this journey alone. Our Austin, TX, memory care community is not your average assisted living facility.
How do you provide the best care for your loved ones with memory challenges? Making the right decision can make all the difference when various options are available. Family members often need clarification on the distinction between memory care facilities and memory care communities in Austin, TX.
Understanding the difference can help you make an informed choice that suits your loved one's needs and preferences. At SoCo Village, we're proud to offer a warm and engaging memory care community. Our team focuses on creating a home-like atmosphere for residents and their families.
Community vs. Facility Dementia Care in Austin, TX
"Facility" is a common word that follows memory or dementia care. However, most providers prefer to use the term "community."
Senior care facilities for older adults are typically designed with a medical focus. They provide specialized care for individuals facing memory-related issues on top of other conditions. These facilities often:
Have a structured environment
Offer assistance with activities of daily living
Provide medication management
Feature skilled nursing health care services
Facility environments handle higher levels of long-term care. A nursing home would be one example of this type of senior housing in Austin, Texas.
Memory care costs are more expensive than assisted living. However, a skilled nursing facility is far more costly. The average price of memory care in Austin is $6,681 per month. A nursing home facility offering a higher level of care is $8,973.
Most people with memory loss do not need additional care services. Many types of dementia require being surrounded by comforting services and friends.
While skilled nursing facilities prioritize medical needs, they may sometimes lack the social and homely atmosphere that some individuals desire.
Memory care communities, like SoCo Village, offer a unique approach that blends assisted living with a strong emphasis on social engagement. Our signature memory care program, The Retreat, guides the daily support.
Communities strive to create a more residential and friendly atmosphere. Memory care residents have the opportunity to:
Interact with others
Participate in group activities
Enjoy a sense of belonging
Live in a secure setting
These communities are less clinical and more like a home. Dementia care provides an environment where individuals can maintain higher independence while receiving the necessary support.
Why Choose SoCo Village
We understand the importance of excellent care and a welcoming environment at SoCo Village. Our senior living community in Austin, TX, offers a holistic approach that considers the medical needs of our residents. However, we also focus on instilling a sense of community and belonging.
We're creating supportive senior living that's a little bit more hip!
Homely Atmosphere
Many family caregivers worry their loved ones will feel uncomfortable or out of place in a clinical or institutional setting. They want their loved ones to live in a familiar, cozy, and welcoming environment.
At SoCo Village, we understand the importance of a homely atmosphere. Our community is thoughtfully designed to mimic the warmth of a real home. From comfortable furnishings and decor to communal spaces that encourage socializing, we create an environment where residents can feel at ease.
We address family caregivers' concerns by providing their loved ones with a secure and cozy apartment. Our team members maintain these living spaces to make them feel genuinely at home.
Engaging Activities
It's difficult for home caregivers to provide engagement on top of their other duties. Many worry about themselves and their loved ones becoming isolated and socially withdrawn. Often, this leads to feelings of loneliness and depression.
Our belief in the power of engaging activities drives our approach at SoCo Village. We offer a diverse range of activities that cater to different interests and abilities:
Art classes
Music therapy
Pet therapy with our resident Bruno
Supervised group outings
Interactive games
Residents have ample opportunities to socialize, engage, and form meaningful connections. By providing a lively and vibrant social calendar, we address the family members' concerns about isolation and support their loved one's mental and emotional well-being.
Person-Centered Care
Family caregivers understand that their loved ones have unique preferences and needs. They worry about their family members receiving cookie-cutter care that doesn't consider their individuality and identity.
Our dementia care team stands out by offering person-centered care. We take the time to get to know each resident personally, understanding their likes, dislikes, routines, and histories.
Resident care plans are customized to cater to each individual's specific requirements. This approach ensures that loved ones receive personalized attention, support, dignity, and respect.
Professional Expertise
Most relatives don't have the specialized skills and knowledge required to provide comprehensive memory care to their loved ones. Often, they have limitations or boundaries.
Our team of trained specialists possesses professional expertise in memory care. They are well-versed in the unique challenges and needs associated with memory-related conditions.
With their specialized knowledge, our team provides the highest quality of care and attention to residents. Family caregivers can gain peace of mind knowing that their loved ones have experienced professionals who can address their unique needs with compassion and skill.
These pillars of our memory care community ensure that residents and their families can embrace a higher quality of life and support during their memory care journey.
Discover the Difference of Community for Austin Memory Care
When choosing a memory care community in Austin, TX, it's essential to consider the needs and desires of your loved one.
SoCo Village offers a warm and welcoming environment that combines care and inclusion. We invite you to explore our community and see how we include family in memory care in Austin, TX.
Contact us to visit our community and discover the difference!